NOW AVAILABLE IN DR. JOHNSON'S OFFICE!
Unveiling the Remarkable Benefits of Hyperbaric Oxygen Therapy
Introduction: In recent years, medical science has witnessed the emergence of numerous innovative treatments and therapies, offering promising results for various health conditions. Among these groundbreaking therapies is Hyperbaric Oxygen Therapy (HBOT), which utilizes the incredible healing power of oxygen to promote the well-being and recovery of individuals. In this blog post, we will delve into the many benefits of Hyperbaric Oxygen Therapy and shed light on its potential to revolutionize medical care.
Accelerated Healing and Tissue Regeneration: Hyperbaric Oxygen Therapy involves breathing pure oxygen in a pressurized environment, typically inside a specially designed chamber. The increased pressure allows a higher concentration of oxygen to dissolve in the bloodstream, resulting in enhanced oxygen delivery to all tissues and organs. This increased oxygenation promotes the growth of new blood vessels, stimulates collagen production, and facilitates faster wound healing, making it invaluable in the treatment of non-healing wounds, burns, and tissue damage caused by radiation therapy.
Enhanced Recovery from Sports Injuries: Athletes and sports enthusiasts often face musculoskeletal injuries that require extensive recovery periods. Hyperbaric Oxygen Therapy has shown remarkable potential in this domain by accelerating tissue repair and reducing inflammation. By increasing oxygen supply to damaged tissues, it aids in the regeneration of injured muscles, tendons, and ligaments, helping athletes return to their peak performance levels more quickly.
Neurological Rehabilitation and Cognitive Enhancement: Hyperbaric Oxygen Therapy has demonstrated significant benefits in various neurological conditions, including traumatic brain injuries, stroke, and neurodegenerative disorders such as Alzheimer's disease. The increased oxygen levels enhance brain metabolism, promote neuroplasticity, and stimulate the growth of new nerve cells. These effects contribute to improved cognitive function, memory, and overall neurological rehabilitation.
Relief from Chronic Pain: Chronic pain can severely impact an individual's quality of life, often necessitating long-term pain management strategies. Hyperbaric Oxygen Therapy has shown promising results in alleviating chronic pain by reducing inflammation, promoting tissue repair, and activating the body's natural healing mechanisms. Patients with conditions such as fibromyalgia, complex regional pain syndrome, and migraines have reported significant pain reduction and improved quality of life after undergoing HBOT.
Treatment of Diverse Medical Conditions: Hyperbaric Oxygen Therapy has demonstrated its efficacy in a wide range of medical conditions, including diabetic ulcers, radiation-induced tissue damage, carbon monoxide poisoning, decompression sickness, and chronic infections. It is also utilized as an adjunctive therapy for various cancers, promoting tumor regression and enhancing the effectiveness of certain anticancer treatments.
Boosts the Immune System: Oxygen is essential for the optimal functioning of the immune system, as it helps eliminate harmful bacteria and viruses. By increasing oxygen levels in the body, Hyperbaric Oxygen Therapy enhances immune response, aids in the eradication of infections, and supports the body's natural defense mechanisms. It is particularly beneficial for individuals with compromised immune systems or chronic infections.
Conclusion: Hyperbaric Oxygen Therapy offers a multitude of benefits, revolutionizing medical care by harnessing the remarkable healing power of oxygen. From accelerated wound healing and tissue regeneration to neurological rehabilitation and relief from chronic pain, the applications of HBOT are vast and diverse. As further research and advancements continue, this innovative therapy has the potential to transform the lives of countless individuals, offering new hope and improved outcomes for a wide range of medical conditions.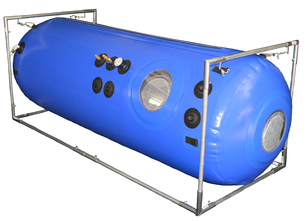 NOW AVAILABLE IN DR. JOHNSON'S OFFICE!