What are the education requirements to become a chiropractor?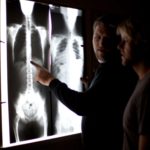 Generally, a Doctor of Chiropractic Degree (DC) requires a minimum of eight years of study. The student is required to complete a four-year undergraduate degree which includes two years of pre-professional studies emphasizing chemistry, physics, biology, etc.
Upon acceptance to an accredited Chiropractic College or University, the student completes studies emphasizing anatomy, physiology, biochemistry, pediatrics, dermatology, genetics and other subjects related to health and disease. During the final year of Chiropractic school, the emphasis is on the treatment of neuro-musculo-skeletal problems, spinal misalignments or subluxations, biomechanical problems, differential diagnosis and x-ray diagnosis.
A one-year clinical internship must be completed prior to graduation in order to attain the Doctor of Chiropractic degree. After graduation, the Doctor must pass four demanding national board examinations and state examinations in the states in which they choose to practice.