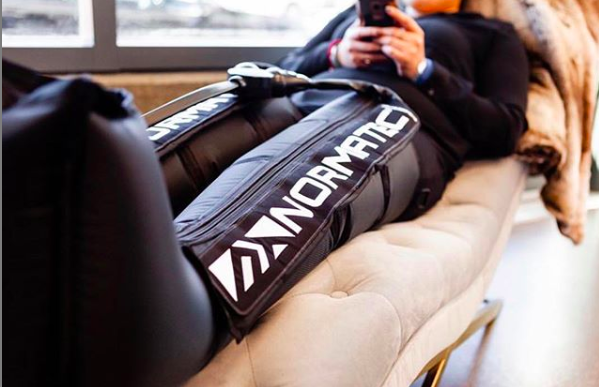 In the world of athletics, recovery is often the key to success. Whether you're a professional athlete or a fitness enthusiast, the ability to bounce back quickly after a tough workout or competition can make all the difference in achieving your goals. One innovative tool that has gained popularity in recent years for enhancing recovery is NormaTec compression sleeves. These high-tech garments offer a range of benefits that can help you recover faster and perform at your best. In this post, we'll delve into the science behind NormaTec compression sleeves and how they can improve your recovery process.
Understanding NormaTec Compression Sleeves
NormaTec compression sleeves are a form of pneumatic compression therapy that use air pressure to promote recovery. They are designed to mimic the natural muscle-pumping action of the legs, enhancing circulation and reducing muscle soreness. Here's how they work:
Sequential Pneumatic Compression: NormaTec sleeves are equipped with multiple chambers that fill with air sequentially, starting at the feet or hands and moving upward. This sequential compression action helps to push fluids – such as blood and lymph – upwards towards the heart, facilitating the removal of waste products and reducing inflammation.
Enhanced Blood Flow: By promoting blood circulation, NormaTec sleeves provide oxygen and nutrients to the muscles, which is crucial for recovery. Improved blood flow also helps in removing metabolic waste products, like lactic acid, which are responsible for muscle soreness.
Decreased Swelling and Inflammation: The targeted compression provided by NormaTec sleeves reduces the accumulation of excess fluid in the limbs. This can significantly reduce post-exercise swelling and inflammation, leading to quicker recovery times.
Muscle Relaxation: The pulsating pressure from the sleeves helps relax muscle tissue, reducing muscle tension and tightness, which can aid in preventing injuries and enhance overall muscle function.
The Benefits of NormaTec Compression Sleeves for Recovery
Now that we have a basic understanding of how NormaTec compression sleeves work, let's explore the various benefits they offer for recovery:
Faster Recovery: One of the most significant advantages of using NormaTec compression sleeves is the speed at which they can help you recover. By facilitating the removal of waste products and reducing muscle inflammation, these sleeves can help you bounce back quicker after intense workouts or competitions.
Reduced Muscle Soreness: NormaTec sleeves are particularly effective at alleviating muscle soreness and stiffness. Athletes who use them regularly report feeling less pain and discomfort in their muscles, which allows for more productive training sessions.
Improved Performance: When your muscles are less fatigued and sore, you can perform at your best. NormaTec compression sleeves contribute to improved muscle function, which can lead to enhanced performance in your chosen sport or physical activity.
Injury Prevention: By keeping muscles relaxed and reducing tension, NormaTec sleeves can help lower the risk of injury. This makes them an excellent choice for both injury prevention and rehabilitation.
Versatility: NormaTec offers various compression devices, including full-leg sleeves, arm sleeves, and hip attachments, which means you can target specific areas or address multiple muscle groups as needed.
NormaTec compression sleeves have become a valuable tool for athletes, fitness enthusiasts, and anyone looking to maximize their recovery potential. Their science-based approach to promoting circulation, reducing muscle soreness, and aiding in muscle relaxation has made them a trusted choice in the world of sports and fitness. By incorporating NormaTec compression sleeves into your recovery routine, you can expect faster recovery times, reduced muscle soreness, and ultimately, improved performance. So, if you're serious about optimizing your athletic potential and taking your recovery to the next level, give NormaTec compression sleeves a try – your body will thank you.