In recent years, there has been a surge of interest in alternative and complementary therapies aimed at improving health and well-being. One such therapy gaining recognition for its potential to promote healing and enhance overall health is Hyperbaric Oxygen Therapy (HBOT). This innovative treatment involves breathing oxygen in a pressurized chamber, and its benefits extend far beyond its original use in treating decompression sickness. In this blog post, we will delve into the fascinating world of HBOT and explore the remarkable benefits it offers to those who undergo this treatment.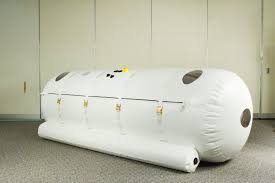 Accelerated Healing
One of the primary advantages of hyperbaric oxygen therapy is its ability to accelerate the body's natural healing processes. The increased pressure and high levels of oxygen promote the production of collagen and new blood vessels, leading to faster tissue repair. This makes HBOT an excellent choice for individuals recovering from surgeries, wounds, or injuries, as it can expedite the healing process and reduce recovery time.
Enhanced Brain Function
HBOT has shown promise in improving cognitive function and enhancing brain health. The increased oxygen levels in the bloodstream can help combat oxidative stress and inflammation in the brain, potentially benefiting individuals with conditions such as traumatic brain injury, stroke, and even neurodegenerative disorders like Alzheimer's and Parkinson's disease.
Management of Chronic Conditions
Individuals suffering from chronic illnesses such as fibromyalgia, multiple sclerosis, and Lyme disease have reported significant improvements in their symptoms after undergoing hyperbaric oxygen therapy. HBOT's anti-inflammatory and immune-boosting effects can help manage the symptoms of these conditions, improve overall quality of life, and reduce the reliance on pharmaceutical treatments.
Enhanced Athletic Performance
Athletes looking for a competitive edge have turned to HBOT to improve their endurance, stamina, and recovery. The therapy helps athletes recover faster from intense workouts, reduce muscle soreness, and increase their energy levels. Some studies suggest that HBOT may also enhance the body's ability to produce red blood cells, leading to improved oxygen delivery to muscles and tissues.
Treatment for Chronic Wounds
Chronic wounds, such as diabetic ulcers, can be challenging to heal and may lead to severe complications. Hyperbaric oxygen therapy has proven effective in promoting wound healing by increasing tissue oxygenation, stimulating the growth of new blood vessels, and enhancing the body's natural defense mechanisms against infection. This can be a lifesaver for individuals struggling with non-healing wounds.
Anti-Aging and Skin Rejuvenation
HBOT has gained popularity as a natural, non-invasive method for skin rejuvenation and anti-aging. The increased oxygen levels can stimulate the production of collagen and elastin, which are essential for maintaining youthful and vibrant skin. Regular sessions of HBOT can reduce the appearance of wrinkles, fine lines, and age spots, resulting in a more youthful complexion.
Relief from Radiation Side Effects
Cancer patients undergoing radiation therapy often experience uncomfortable side effects, including tissue damage and scarring. Hyperbaric oxygen therapy can mitigate these effects by promoting tissue repair and reducing inflammation. It is particularly beneficial for individuals who have undergone radiation therapy for head and neck cancers.
Hyperbaric Oxygen Therapy is a versatile and powerful treatment that offers a wide range of benefits for individuals seeking improved health, accelerated healing, and enhanced well-being. From wound healing to cognitive enhancement, and even anti-aging effects, the potential applications of HBOT are vast and promising. While it is essential to consult with a healthcare professional before pursuing any medical treatment, HBOT has demonstrated its worth as a complementary therapy in various medical fields, improving the lives of countless individuals around the world. As research continues, we can expect to discover even more exciting applications for this remarkable treatment in the years to come.